Must haves for your first RV Park adventure.
W
hat you should have to Hook-up Services 
I'd like to talk about the things you must have before you can go camping or spend a night in your RV. Lets begin with your electrical hook-up. Whether your RV is a 30 amp or 50 amp connection, you won't have any power without the right cords and adapters to plug into an electrical current. Lets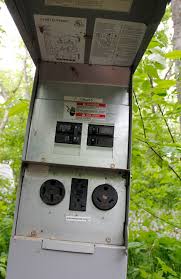 assume you are going to an RV Park or Resort and you will have Power, Water, and Sewer hook-ups. You want to make sure your RV is equipped with an electrical plug designed for your system. Most modern Motorhomes have a 30 amp or a 50 amp service. If your RV is equipped with one air conditioner on the roof and a propane fridge and stove, then chances are you have a 30 amp service.
With a 30 amp service you probably wouldn't want to run too many appliances with the air conditioner on. I usually would turn the air off if I made coffee or toast just to be sure not to trip a breaker. Sometimes it depends on the Park and how old their system is. The compressor on an air conditioner draws a lot of power every time it turns on and off. When it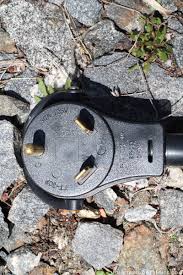 reaches the temperature you have set it at, it will turn off until the temperature goes up, then come on to cool it down again. This puts quite a load on the system and if you are running another appliance that requires a lot of power it may be too much and trip a breaker. Some RV Parks have breakers on the power box outside where you plug in. If the Coffee maker, toaster and AC trip the electricity, its no fun getting dressed to run out and reset the breaker before you've even had your coffee.
If your Coach has 50 amp service you shouldn't need to worry about much. When I am plugged in to 50 amp, everything works even if I run them all at the same time. A 50 amp plug and wire are bigger than the 30 amp and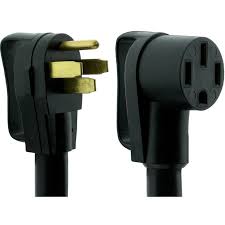 have a much higher gauge wire inside. This allows much more power to pass through without getting hot or tripping a breaker. I have learned that you should test your RV to see what the limits are when you are in a Park that has easy access to the breakers. If you trip one you can easily fix it. Having 30 amp power is not a bad thing. You just need to work around your limits. Once you have been out a couple of times you will know what you can and can't do all at the same time.
Now that we have covered a little bit of how it works, what do you need to add to your RV essentials checklist. The first thing you need to look for is the electrical cord with a 30 or 50 amp plug on it. Sometimes it is just a thick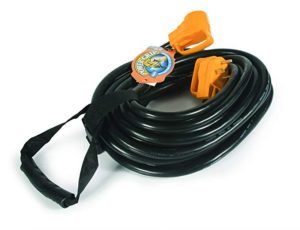 extension cord with large male and female ends on it. It may be a permanently attached wire on the RV and only have a male end on it. If you can, try to get the previous owner or salesperson to show you where it is or where it plugs in to the RV. Everything electrical is usually in a compartment on the drivers side of your rig. If there is no chord you will need to buy one.
My RV has a 50 amp chord, but I keep an extra 30 amp chord and a 50 to 30 amp adapter in case the Park doesn't have 50 amp service or all those sites are taken. If I plug in to a 30 amp receptacle I will still be able to run an air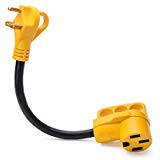 conditioner, lights, TVs and some appliances without too much trouble. This will also keep my batteries charged while I am plugged in. I would suggest buying an extra 30 amp cord even if you already have one just in case you need the extra length at some time. I also keep a 75 feet outdoor 3 pronged household extension cord just in case I am somewhere that I can only plug into a traditional household receptacle. I may or may not get the air to work but I can use the lights, TVs and small appliances. This too will keep my batteries topped up and its nice to not have to worry about that. For this to work you will need to buy a 30 amp to 110 adapter so you can use a regular household wall plug if there's nothing else available. I like to boondock a lot and many times I have found a 110 plug with power that is available to use and I was so thankful for all the extra chords I brought along. Last is a Power Surge protector. Some RV Parks were built awhile back and may not have all the modern protections a newer Park will have. We carry a lot of electronics with our RVs and its always wise to have some heavy duty surge protection. You can buy small plug ins or get a box to protect the whole RV. I have a big one and have never had any problems.
Getting Water
On the drivers side of your RV you will see a water intake. It may be inside a small door or in one of the lower storage areas outside. It is usually locked to avoid contamination. You will have a fresh water tank under your Rig that needs to be filled up with potable water. These tanks are usually somewhere from 30 to 100 gallons depending on the size of your RV. I keep mine topped up all the times in case I boondock somewhere without services. Its extra weight to carry around but you will be happy to have it if you get stuck somewhere and end up running out.
To fill this tank up you will want to be sure you will be using potable water unless you are using pre-bottled or larger bought water jugs for drinking. For drinking water we use the refillable 16 liter jugs you can buy at the grocery store then return for a full one. It is better for the environment not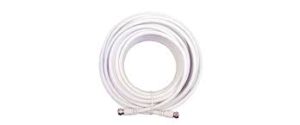 to use cases of plastic water bottles, but that's up to you. If you trust that your fresh water tank doesn't contain anything that could hurt you or if it is new then put your drinking water right in there and drink it. There are special hoses that you can buy that are just for that purpose. They are usually white and will say they are for potable water use when you buy one. I keep two of these hoses in my Rig just in case it might be a long way to the spigot. I find using two 25 ft. hoses better than one 50 ft. hose. If the hook-up is close then I don't have 35 ft. of extra hose to trip over, if I just use one hose. If its far, then I have lots. When I put them away I always thread the ends of each hose together to keep out bugs and contamination.
Even though I don't really drink water from my tank I do the best I can to keep it clean and filter it a couple of times before it comes out of the taps. I have an inline filter that hooks up on my hose and directly to the tap I am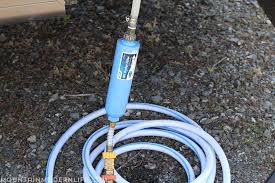 getting water from. There is another permanently mounted filter just outside of where the hose goes into the tank as well. In my kitchen I have a drinking water tap the previous owner installed and it has a third filter on it. I feel it is clean enough to brush my teeth but I don't drink from it. You can buy replacement filters that may be changed every three or four months or once a season depending on how much water you use. I like to buy the best filters and hoses I can, to be sure we aren't getting any kind of contamination. These filters and replacement filters can usually be bought where you would buy your hoses at Amazon or at any Walmart.
What goes in must come out
Now that we covered how to get the water into your RV its time to cover what you need to get the dirty water out. Under your RV on the Drivers side, or in a compartment, you will find a plastic pipe. with tiny nipples near its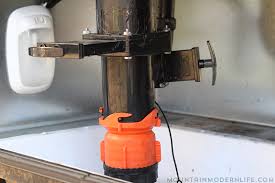 opening. This is the sewer drain. There are usually two pipes leading into the one drain. Each of these pipes will have an open and close valve on them. They are usually marked "pull to open, push to close" and Grey Water or Black Water. Usually hidden away from Pets and Children you will find a flexible hose that fits onto the pipe and turns, to be secured by the nipples on the drain. If you do not have a new sewer hose with your RV I would suggest you get one. If you have a used hose and you can not be sure of the age or condition it might be in I would replace it. This is not a hose you want to fall off or split while you are draining your tanks. I would also suggest getting some disposable plastic or rubber gloves for doing this chore.
The sewer hose you need is a flexible hose and can be lengthened or shortened by squeezing it together or pulling it apart. I have lots of room in my storage bays so I have two that I can join together if needed, but its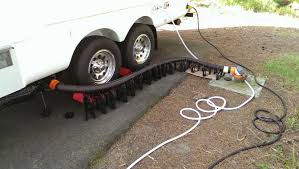 more for convenience. On your Camp Site you will have a receptacle for power, a spigot for your water hose and a sewer drain close to the ground. You need to hook up the sewer hose to the drain on the RV by pushing the hose over it then turning it until it locks in place. You then lay it across the ground and into the sewer drain on the ground. Always be sure to not put too much of your hose into the drain as that could cause the main drain under the ground to plug up.
Your RV has two used water tanks. One is a Grey water tank and the other is a Black water tank. When these become full they need to be drained. If you are staying in a Park you can just leave them in the open position and let them drain through the hose to the sewer drain instantly. Some people like to let the tanks hold the sewage until it has some volume then drain them. This allows the sewage to build up some momentum to reach the ground drain when you do open them. This is a suggestion and I will leave it up to you. If you do have quite a bit of volume in your tanks and want to drain them then make sure you have a good connection on your hose. You do not want any leakage. The Black tank is your toilet water. Pull the stop slowly out on the pipe marked Black water and let it drain until you hear it stop running. You might then want to pick the hose up off the ground, closest to the RV first and force any sewage sitting inside the hose to drain into the ground sewer. Now push the stop closed and slowly open the Grey water pipe. The Grey water is any water that goes down your sink, shower, washing machine or dishwasher if you have one. It would be a lot cleaner than the Black water so doing it last will clean out your hose quite a bit.
When you are done camping it is always smart to unhook your sewer hose from the RV first and run some clean water through it and into the ground drain to clean it out. I use a old piece of garden hose for this so as not to contaminate my good water hoses. Always store your sewer hose somewhere that it cannot contaminate things you may come in contact with. A lot of RVs have a tube to insert it into for safe storing. One more good thing to have is Black Tank deodorizer. Add it to your toilet any time it begins to smell.
Conclusion
We have covered the essentials you will need to overnight in an RV Park with services. These are just the RV Essentials you must make sure your Rig has to enjoy a comfortable night in a Park. I will be covering more RV Essentials that will make your stay easier and more comfortable in future posts. Below is a list of the things that we covered in this post. I really hope you find this helpful.
Click on any of the links below to see the
Hook-up Essentials on the Checklists.
RV Essentials Checklist #1
RV Essentials Checklist #2
RV Essentials Checklist #3