Choices
There are a lot of ways to go Camping in a motorized vehicle. It's really up to you to decide what you want or need to accomplish this.
First, are you going out for a day, week, month or longer?
How many people are going with you?
How much comfort do you require?
Below we outline the different types of Motorhome's available to help you decide what Class of Motorhome is for you.
---
Vans and Conversion Vans
Vans are smaller, more economical, and best for short stays. They are comfortable to ride in and usually easier to drive. Vans usually just come with passenger seating and some storage. They can be converted by the owner to add a bed for overnight stays but are pretty basic.
Conversion Vans are much different. They may come with a raised roof for extra headroom and RV style windows. Most come with very comfortable seating and a couch that folds down to a bed. There is no Plumbing for a bathroom and no cooking inside unless installed by the owner. They are comfortable for a short stay but not self-contained.
---
Class B Motorhome
This type of Motorhome is usually a real, but smaller version of an RV. It is usually still a Van, on a Van frame, but has been widened and the roof raised. The chassis is usually heavy-duty to support the extra weight of the RV interior. It may have a fold down or permanent bed, a small kitchen with fridge, stove, microwave and usually a small wet bathroom. They come with a fresh water tank and a dumping tank underneath to service the kitchen and bathroom.
Now that composting toilets are more popular some may have one of those or a portable one. Most will have a propane tank built in for the fridge and furnace. These smaller RVs can be used at an RV Park and be plugged in to water and hydro receptacles for the microwave, air conditioning and AC plugs scattered throughout. For two people who don't mind being outside a lot, these smaller RVs can provide a comfortable trip or adventure.
---
Class C Motorhome
This type of Motorhome is usually built on a Van, Box Truck heavy-duty frame. It has tandem wheels on the back to help support the weight of the fully functional RV. These RVs are very popular with beginners and are easier to park on side streets and parking lots. They come in a variety of sizes and are outfitted with everything one would need for an extended holiday or even a more permanent Nomad lifestyle. They usually sleep four to six people comfortably and can carry enough fuel, water, and propane to be self-contained for a few days or longer.
Most Class C's come with a generator for AC power and battery charging when needed. Newer versions may also have solar panels and inverters to supply an alternate charge to the batteries and an AC current to the unit when not plugged in or driving. More modern Class C's may have slide outs to increase the living space when parked. When in an RV Campground these RV's can plug in to power, water, and sewer to become completely self-contained for as long as you wish to stay. There are an abundance of floor plans available to a buyer, but Class C's come with all the comforts one would need for a longer or permanent stay away from home.
The Super C RV
The Super C Motorhome is the same in design as a regular Class C except it is built on a heavy-duty truck frame. Some are even powered by Transport truck diesel engines and cabs. The trucks used to power these RV's are front engine diesel motors that are long-lasting, reliable, and easy to service.
They have incredible torque and power for pulling these heavy loads and can run for days. The RV itself is built on a larger, tougher, and higher frame allowing for more available storage around the bottom. You may find these RV's to be a higher quality build and have more luxury features than a standard Class C. I have never owned one of these, but I often think about trading in my Class A diesel for a Super C.
---
Class A Gas RV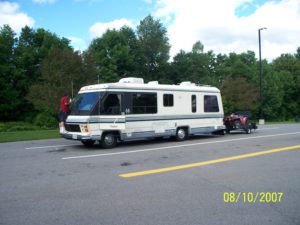 The Class A gas RV comes on a front engine Bus style chassis. They range in size from 25-40 ft and can be as high as most transport trucks. This allows for an abundance of storage behind doors around the bottom of the RV. Inside is usually very roomy with all the comforts of a home.
You sit and drive up high which allows for a very good view of the road and scenery. These units come completely self-contained and can stay out without plug-ins, water, or dump stations for quite some time. It depends on the amount of people using the RV and how much water they use, but two people could last anywhere from a week to a month without having to hook up to dump the tanks or get water.
I had a 30 ft. Class A gas RV and found it easy to get around in. Parking could be a problem in busy places but I learned from experience where to go and not go. They are great for camping if you don't want to rough it at all. We used to visit relatives 1000 miles away a couple times a year. It made the drive easy and you could pull into a rest area and grab a nap any time you were a bit tired. Once we arrived we would plug in and stay in the RV at night so we didn't have to unpack or sleep in someone else s bed. We had some great times in our Cass A gas RV.
Class A Diesel Pusher
This is the best Type of Motorhome of all the RV's I have owned. The Class A diesel pusher has the engine in the back much like the transportation buses you see on the roads and hiways. It is in most ways just like a bus. It rides on cushions of air and has air brakes. With the engine in the back it is very quiet up front.
There is a ton of storage below and as much room as a small apartment to live in. With a slide out it becomes roomier and very comfortable. Mine has many of the features you would find in a home. Things like wood floors, ceramic tile, ducted heat and air conditioning, bath tub and shower, full size fridge, microwave, convection oven, Gas stove with an oven, and even a ceiling fan. For anyone who wants the full package, this is it. I am so comfortable wherever I go.
There is a downside to all this though. Being 40 ft. long you can't just go anywhere. City driving can be challenging for some at first. It is hard to find public parking for these beasts until you get your bearings. There is a lot of weight to them as well so grassy and sandy areas could allow you to sink in a bit. Just don't go where others don't go and you will be fine. For anyone who is new to the RV lifestyle then maybe start with a Class B or C until you get used to the size and work your way up.
---
School Bus RV
School Buses are getting very popular with the RV nomad lifestyle. People are buying old School Buses and converting them into home made RVs. They are heavy-duty and most come with diesel engines. For anyone who wants one, you may find a used one that someone has converted, but you may be buying someone else's dream and end up spending thousands to make it your own. These vehicles are made to last a long time and carry quite a bit of weight. They can be bought fairly cheap but seem to be getting a lot more popular. A conversion might cost anywhere from $10,000. to $75,000. depending on what you want. Maybe a used one already converted might be the way to go for your first attempt at this kind of Rig.
---
Conclusion
It is totally up to you what type of Motorhome suits your lifestyle. The best thing to do is figure out your budget then go looking at the different options. For anyone who wants to buy one, start pretty basic, then you can learn how all the systems work as you upgrade to more complicated units. RV repairs are expensive compared to cars and a lot of things are not that hard to do yourself if you learn as you go.
Owning a comfortable, self-contained unit can change your life for the better if you like to travel or camp in the outdoors. The cost of Hotels and Food on a vacation can help to justify this wonderful way to travel. We love to travel and the RV has become a big part of our lives.