Let's look at buying a New RV vs. a Used RV
.
Brand New RV's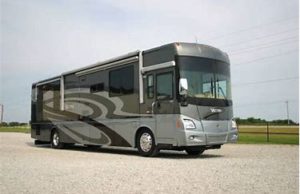 I have never purchased a Brand New RV. In fact, I have never even purchased a Brand New Car. I have always bought used or lightly used Cars, Boats and RV's. If you are looking to buy an RV and you don't know which way to go, I can point out some very important points you should consider. The biggest point is the price. New RV's are very expensive. If you pay more for the unit then you will pay more for Tax and Insurance. Plus the depreciation on an expensive brand new Coach could be as high as 25-40% in the first 1-2 years. You may find a variation in price between one Brand or another but that usually means one will be better built than another.
Well built more expensive RV's are so much better than the cheaper versions that will continually need maintenance and repairs to be quiet and comfortable. I have met many people who bought new, but cheaper brands. They ended up trading them in for better quality units because they are sick and tired of tightening screws, shimming squeaks and rattles, and making systems more accessible because of poor designs to save money. There are so many systems on the new RV's today, that one failure could ruin a whole holiday.
Many buyers mistakenly think buying a New RV is like buying a car. When you drive a new car off a lot there will be very little if anything wrong with it. Not so for the New RV. There are miles and miles of wiring and plumbing in the many systems on board these homes on wheels. Different pieces are built in different areas of the factory and they all come together as it is assembled. Not all the systems can be tested under the conditions you may put it under. Then it may go back to the factory to be diagnosed and repaired. These manufacturers are in the business of building RVs not repairing them. A trip to the factory or dealer could take weeks to diagnose, order parts and repair any malfunction. I have a friend who waited 15 days to get one side of his windshield replaced under warranty.
If I had the money and the time to sort out a New RV, I'm still not sure if I would go that route. I understand it would be nice to have a Coach that nobody has slept in or showered in, but it is a Recreational Vehicle and I will use it for travel and fun. One thing I know for sure, out in the Mountains or Desert or where ever the road takes me, it sure won't be new for long.
---
A Lightly Used RV
If you are not on a budget but still want to save some money on an almost new RV, this may be the route for you. An RV that is 2-5 yrs old could save you up to 40-60% of the cost of a new one. You may not get the newest technology available but you could get a higher quality Coach for a lot less.
If you are careful what you buy you may find one that is almost like new with all the little problems removed by the original owner. You may even get some upgrades that were installed by the owner and the savings is passed on to you. I have had the best luck buying privately right from the original owner. You can usually tell if he is being honest by the condition of the RV and the condition of his service records. Most RV owners keep a file of what's been done, by whom, and the cost of any service or additions done to it.
If you go to a Dealer, you are talking to a sales person who wants to sell you an RV and really doesn't know that much about where its been and what's been done to it. If you want a warranty or have the Dealer finance it, then this route is OK if you are careful. There are some things to look for when buying from a Dealer. Often these used RV's sit on their lots for quite a while. Up in Canada where I live we have cold, snowy winters where RV's are usually put away for Winter. This means long periods of inactivity for the Dealers and the RV's. This is referred to as Lot Rot. Some RV's may sit for quite a while.
There are a couple of things that can go wrong that may look fine but could cost the buyer thousands of dollars. First is batteries. With newer solar technology and the use of Inverters, a lot of RV's have multiple house batteries to give them use of house current, or AC power in their RV's when not plugged in. These batteries must be maintained and kept at a certain charge or they lose their ability to fully charge. Sitting on a lot, these batteries may not be charged for long periods and could lose their ability to hold that charge. Replacing these could cost thousands of dollars and you would never know until you are long down the road. It's always good to negotiate new batteries into a deal. Another is tires. You can look at an RV tire and it can look almost new but because they may have sat around for quite a while and may have limited use by the previous owner, they may be a lot older than you think. I once had two blow outs on my first trip in a used RV I had just bought. This RV had been stored indoors for the winter months and the tires had very few miles on them. I did not know at the time that all tires have a date code on them and can be checked before a purchase. (I will cover this in more detail in a future post). I had to replace six tires that looked to be in very good shape to make sure I would be safe.
Had I known this before it happened, I could have saved myself nearly five thousand dollars in service calls, tires and installation charges. One of these blowouts also caused damage to one of my storage bays which had to be rebuilt. This may not be a huge issue for a lightly used RV, but it is still something I would always check out.
---
Older Used RV's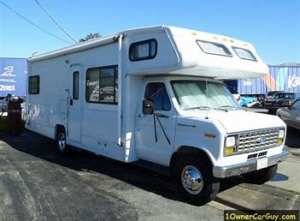 Having bought quite a few older RV's in my life, I have sure learned a lot from my mistakes. Buying an older RV can save you money, but unless you are somewhat handy it could be a money pit. There is the problem of batteries and tires I mentioned above, but also wear and tear on the inside and outside.
If you try to find an original owner RV you could end up with a really well looked after unit. You can't always tell how honest someone is, but if he kept records of repairs and upgrades, you can usually get to the truth. If there are none, I would look elsewhere. Don't be in a hurry. The more RV's you look at, the more layouts and upgrades you might like. There's nothing worse than buying something and then wishing you had bought a different version of it. You can go to a dealer and view a whole assortment of models and sizes and then search online for what you like, to compare price, mileage, accessories and condition.
If I am looking at the all around condition of an older RV I always like to look at the interior ceiling. If you see any water marks or stains, you might want to make sure that the roof has been properly repaired and waterproofed. Make sure the stove, fridge and furnace all work off the propane as it should and that the propane system has been inspected within a reasonable time frame. The all around cleanliness tells you a lot about previous owners and there should not be any nasty smells. Again, the more RVs you look at the more you will learn what to look for. If the water tanks are full or you can hook it up to a water supply, run the water in all the taps and look for leaks in the cabinets, or on the floors. Go outside afterwards and look underneath for puddles or water dripping down. There should be none. Get the seller to repair these things if you want to buy it or move on to another one.
Once you find the one for you, ask to have it checked out by a mechanic. Get an opinion on its overall condition mechanically. They will know what to look for and advise you if any money needs to be spent and how long into the future that will be. You will be spending a lot less for a well-used RV, so budget for things that even the owner may not have known about, but just happened to wear out on you.
---
Conclusion
I hope this post helps a bit if you are in the RV market. I have more posts to follow and I hope to get into more detail about recommendations of what is essential for the different Classes of RV's and Owners. Whether you are looking to buy an RV or already have one, I will use my experience and research to Post the best information I can to give you and a different outlook on what might be best for you. I want you to enjoy the RV lifestyle as much as I do and have the most comfortable, safe experience possible.