How I got to where I am today.
The Beginning

This is my story about how I went from camping in a tent, to camping in a 40 ft Diesel RV.
When I was in my early 20s, my wife's brothers and sisters all used to go tent camping in National Parks. I had grown up as a pretty spoiled child and had spent my summers at a cottage on a Lake in a place called Muskoka in Canada. The kids all slept in buildings called Bunkies, with real beds, and blankets, while the adults all slept in the main cottage. To me, this was roughing it.
When my wife mentioned going camping, sleeping in a tent on the ground, with no electricity and cooking on an open fire, my initial answer was no way. When I eventually saw the pictures of her family having a great time on these trips I decided that I should at least try it once. So off we went with a borrowed tent, sleeping bags, and enough food for a long weekend. Arriving at a beautiful Park on a Friday afternoon, we set up our tent and set out to find firewood and check out the trails around the lake. I was starting to think this wasn't going to be so bad.
I had been coming down with a cold but it wasn't bad enough to stay home, so I had gone anyway. That night I got hit with the full fledged flu. I was sleeping on an uneven ground in a tent and I started to feel every last bump, stone or twig beneath me. I was hot, then I was cold, then I was really cold, too cold to get up. It was a long and very uncomfortable night. I hung in there with the idea that we would sleep in the car for the next couple of nights.
After moving in to the car, the rest of the weekend went pretty well. I did enjoy the outdoors, the hiking, and the nightly campfires. If I wanted to continue this kind of recreation, I needed to come up with a plan. This was the beginning of how I eventually ended up buying a used motorhome.
My Plan

I wanted to continue the Camping experience, but do it in such a way that I would not be sleeping on the cold ground in a tent. This was in the 1970s and there was a new trend catching on with people converting Vans into customized vehicles that got the name Shaggin-Wagons. This could be my answer. A vehicle I would drive every day and sleep in when I wasn't at home.
I started looking and I found an older 1969 Ford Econoline Van that had a foam bed in the back. The interior was covered in fake fur and it had a giant heart shaped cut out you had to climb through to get in to the back bed area. It wasn't much but I saw potential and I bought it for $800.00 and drove it home. This would be my new tent and I would sleep on the ground no longer.
The Shaggin-Wagon idea was great. The only problem was that I was never happy with what I had. I completely customized the Ford Van with Captains chairs, a fold down bed, Floor to ceiling shelves with a fridge, and even a chemical toilet. It even had murals on the outside.
Awhile later I was offered a job 2200 klms away and wanted to drive the Van out to it. A week before I left I purchased a damaged new car and put the engine and transmission from that into the Van. With out much time to test it, I headed off on that new life adventure in my Van. It made the trip and served its purpose but needed constant repairs. I grew tired of it being unreliable and a few years later I decided I wanted something more modern.
The next Van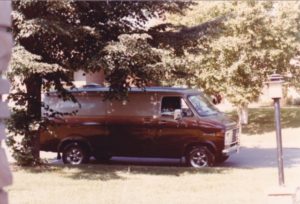 I found a 1978 Chevy Van that was partly customized and was more reliable.  It was customized inside and out. I left that job out west and was heading back home, so I decided to take a Van vacation on the way back.
I began from Central Canada, west through the Rocky Mountains into the Okanagan Valley and on to the Pacific Ocean. Upon entering the U.S.A. I drove past the just erupted, Mt. St Helens to California and Mexico. Then drove across the U.S. to New Orleans, then to Florida. After going to the Florida Keys I headed up the East Coast and back to Canada.
I had slept in the Van most nights for free, but I paid to stay in a campground or cheap hotel when I wanted to shower and clean up. This had been the trip of a lifetime. I wouldn't have changed a thing. I loved that Van, but after finding out we were starting a family, it was just not going to be big enough. As the story goes, or this story anyways, I was going to need something bigger or better.
On to the next one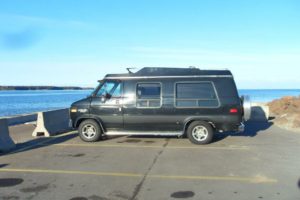 As my children were growing up, there didn't seem to be as much time for camping and fun vehicles. Weekends were Jr. Hockey and Girls Dance Classes Going to the Cottage on the lake seemed to be the thing to do whenever we had time. As life flew by, we were blessed with a Grandson who lived with us and became a huge part of our lives. We took him everywhere with us.
A couple times a year we would drive the 1400 klms. to the East Coast to visit my wife's parents. The Minivans were great for that but we missed the freedom and space of a full sized Van. I searched around and found myself a used cheap Conversion Van. It had a raised roof, a fold down bed, four Captains Chairs, a TV, and lots of room. I loved it. I started to drive it every day. Eventually though, I thought I wanted something more modern, so I sold it and bought a newer one. I missed the old one so much I ended up buying it back and I still have it today.
They Keep Getting Bigger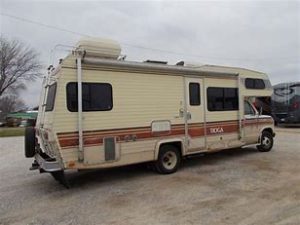 I had always thought about owning an RV but just could never justify it financially. We had sold the cottage and bought a large boat, big enough to travel in. That was a lot of fun but very expensive to operate and it seemed we were always going to the same places. My In-laws were getting older and their health was not as good as it once was, so we were driving the 1400 klm. to visit them more and more. The idea of doing this drive in the luxury and comfort of my very own Motorhome was too much for me not to act on.
I found an old Class C RV for sale that had been loved at one time, but was showing its age and needed some TLC. I bought it and proceeded to fix it up. Since my Grandson was still traveling with us, it had to be safe and reliable. This was always a dream of mine, I loved having it, but I think I loved the idea of having it more than I loved that particular unit. It was just too old. You can fix up a lot of things but the RV was still not modern. With technology going at a rapid pace, the Plain Jane RV just didn't make me happy. I loved never unpacking and sleeping in my own bed, but I would love it more in a newer, bigger, more modern Coach. So off I went on a search for the perfect Class A RV.
The first Class A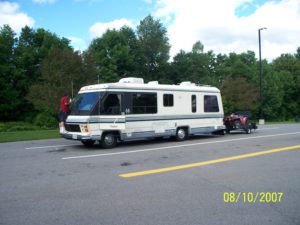 I was driving in the country one weekend and needed to buy gas. Sitting at the side of the parking lot was a nice looking Class A with a For Sale sign on it. I didn't know that much about Class A's except that they were big, comfortable, and usually came with all the bells and whistles. This one had lots of basement storage, big windows, a built in generator, full size fridge, a big bedroom, and felt huge inside.
This was a long time ago and it was built before slide outs, but I just felt like I could live in there for long periods of time and be comfortable. I drove it once and was hooked. It was so different from the Class C. The windshield was huge and you sat up so high. It was like you were looking over the traffic in front of you. I liked it so much I just bought it without having it checked out. The owner was a retired Policeman who said it had become too big for him as he grew older and he wanted something smaller and easier to drive. He showed me receipts for work he had done and said he did a lot of maintenance himself. I found out later that not all he told me was quite accurate.
I was so excited to have a Class A that I completely skipped my own advice and just believed whatever I was told. This RV turned out to be a money pit. With-in weeks I had to replace all the tires. The alignment was off so that had to be straightened. The house batteries would only hold a very short charge so I had to replace those. In the first two years I had replaced the gas tank. welded up the frame and trailer hitch, replaced the exhaust, and had to replace the whole roof and ceiling. I felt defeated. We used to go to the Nascar Races all the time but since I couldn't trust my RV, I gave up my tickets and stopped going. If nothing else, this RV gave me a great education about what to look out for when buying another one.
The Next Move, A Class A Diesel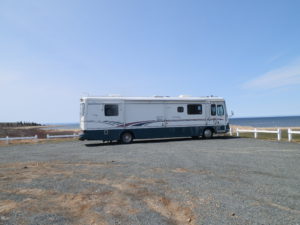 With that experience behind me, I decided I wanted another boat, only bigger this time. We enjoyed the marine lifestyle for a few years and even lived on the boat for a while. My wife's Mother had passed away and her Father was ill so she wanted to go back home and move in with him to help out. The boat was put in storage and costing us a fortune to just sit there. I decided I would try to trade it for another, more reliable, RV.
Sure enough, as luck would have it, we were made an offer and we became the owners of a 40 ft. Class A Diesel Pusher. To me, the ultimate RV for the average guy. I love this RV. It's not for everyone. It is big, it is high, it does have systems that I knew nothing about, but it is now my home away from home on wheels.
It was a challenge to drive in cities and tight spaces, but I soon got over that and knew where to go and what to avoid. I have an RV GPS that warns me of roads to avoid and gives me plenty of time for lane changes before an exit. Since the engine is in the back, it is so quiet while you are driving it. When we use it, I feel like it is my little house on wheels. It has wood floors, Corian counters, ceramic tile and toilet, beautiful wood trim, ducted air conditioning, slide out and on and on. I take it to our local Drag Races and park right beside the track. We can watch the races right from our seats or sit up on the roof. At the end of the day we go to bed and do it all over again the next day.
We are now hoping to take a 3-month vacation to the southern U.S. and then follow around a friend of mine who races down there. It is living the dream, if we can make it all happen. I'm not getting any younger and there are so many places to see and so much to do. This RV can make that happen.
Conclusion
I hope you didn't mind my personal story of how I got interested in RV's and how they played a big part in my life. I love to tell stories about things I have seen and done. I worked for the old newspapers from the time I was 17 until I was 50 yrs old and really enjoy writing about things that I enjoy. This post could easily have been 5,000 words or more but I thought it was best to keep it simple.
I will be writing more about owning an RV, including all the newest things available to make your experience better. There will be information on how to camp for free or the costs of the different kinds of campgrounds or RV parks available. Come back from time to time and check out my own personal experience's, as well as research on new innovative products available to the modern RV owner. Thanks again for reading my Post and please let me know what you think.